Premiumize.me Review 2020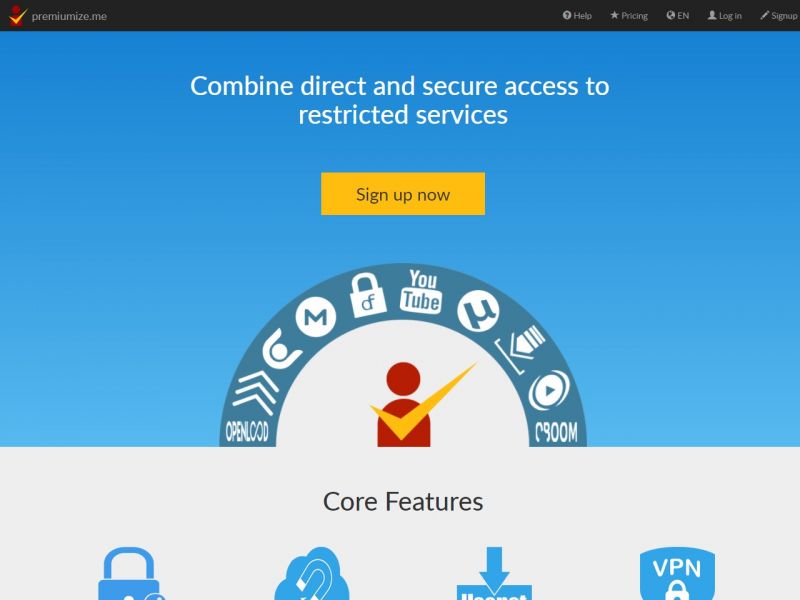 Premiumize is a service run by Meta Connect Ltd., a company registered in Malaysia. The service itself started in June 9, 2011 as an aggregated premium membership service (hence its name), at that time run by another company.
Premiumize back in September 15, 2012. The site started as a premium aggregator
In the last couple years the service has greatly developed into a very feature-rich and pretty advanced all-in-one solution cloudtorrent service.
What does Premiumize offer?
So as the time passed additional services were added; the following are currently offered:
filehost unlocking (i.e. premium aggregator).
Cloud torrent.
Usenet file fetching.
VPN.
VoIP.
Geo unrestrict (to unlock sites available only in a certain region).
All the services work under a "fair use" policy, where resources are distributed following a system of points. All users receive 1,000 points of which the usage of last 30 days gets deducted. Every day the use for the last 30 days gets recalculated the difference to 1000 points is what the user can download.
Roughly, 1 point equals 1 GB, but special regulations may apply for particular services. Some troublesome hosts are assigned a factor which acts as a multiplier to calculate the number of required points.
VoIP calls are billed per minute at a rate that depends on the specific combination of country and phone type (landline or mobile, with mobile lines usually being more expensive). For VoIP €0.01 = 1 point; a full list of prices may be found on the website.
There are no free or trial memberships, and you cannot use any service without first purchasing a premium subscription. VPNs are automatically conceded after upgrading your account and do not consume any points.
The cloud torrent service is bound as well to the monthly limitations, with specific limits depending on the available points. There is a list of sites for which premium download speeds are supported but some of them come with a maximum daily traffic limit.
Premiumize works fine with private torrents. By default the platform will seed during the download, but the user can request additional seeding at a 2:1 ratio or for 72 hours (whatever comes first).
Lifetime of files is technically unlimited, but you are charged 1 point per GB. In other words, if you only used the storage service on your account you could save up to 1TB of data. If you save files that you do not download or seed, you will receive back the points you invested after deleting them.
No downloads are required for download-related services, but an app or plugin is required for VoIP and VPN, respectively. Plugins are offered for most major download managers, including JDownloader, Candisoft Load! and Mipony.
Pricing
There is only one type of premium account; thanks to the point system every user can decide how he will distribute his resources within a month. The cost of the membership varies and depends on its length; 1 month costs €9.99, 3 months are sold for €24.99 (€8.33 per month) and you will be charged €69.99 for a full year (€5.75 per month) which is a pretty good deal for what you get.
Purchasing a premium membership. Unlike other sites, not many "options" (plans / packages) are offered
Accepted payment methods are wire transfers, Bitcoin / Cryptocurrencies, Visa / MasterCard, PaySafeCard, PayPal,  WebMoney, Sofortüberweisung and some other methods that vary by country.
If you run short of points at a given period you have three choices: wait till you receive you refill at the start of the next month, extend your premium subscription (which will automatically reward you with 1,000 points) or buy a booster package.
Four booster packages are available: 1,000 points for €7.99, 3,000 points for €19.99, 6,000 points for €29.99 and €12,000 points for €49.99. Besides the payment methods accepted for memberships, SMS / call is available for purchasing booster packages.
Booster packages. By investing something between €50 and €55 you would have access to 13 TB worth of services!
Using the site
Free trial
The site does not offer any trial or free membership. When it started, 7-day trial accounts were available; they have also given away temporary premium memberships to test new features.
How to download anonymously through Premiumize
We did not have the chance to directly test the service as a premium membership is required. According to their FAQ and resources on the net, the process is very similar to that of other cloud torrent websites. The site has a "downloader" embedded, where you can paste any magnet or torrent link or upload a torrent file and proceed with the download.
On Premiumize seeding for private torrents is default. It will seed for 72h or 2:0 whichever comes first.
Premiumize can also be used to stream audio and video files directly from the browser. Any media files retrieved from any of the sites listed in their list of services will be automatically embedded in a web player to be streamed.
The service will convert any media format that cannot be streamed by the browser into a format that can be streamed. The original file is kept and can also be downloaded.
Premiumize has a simple "stream with VLC media player button" that allows to use your own VLC player to stream from their servers. This will let you stream (not download) AND benefit from the original file quality without dealing with a streaming optimized one in the webplayer.
Another cool features is their Subtitle Search – with a click of a button they match your video file with open subtitles API and let you select the language you want.
CDN is another massive feature of Premiumize.me which is quite costly for them as far as we know. This lets the user change his Download Server Location (CDN) to improve speeds and escape buffering. Read more in this blog post.
The RSS manager works for any content but people mostly use it for usenet + torrents. Check out showrss.info – get your rss link and have it auto-add stuff to your cloud
Cache – another one of the many great features of the premium cloud torrent service. As they grew they obviously decided to not be stingy on storage space. They keep several months of download job retention, meaning it is quite likely that any popular torrent finishes instantly as the system already recognizes it. By their stats more than half of torrents are cache hits. By personal use, if you stick to a big torrent site pretty much the whole top list is cached. Usually users don't have to wait for their torrents to finish.
One more feature we need to mention is the Premiumize Browser Addon or Browser Link handler: Up to you which you want to use. It allows you to "rightclick-add to premiumize" or simply any magnet link you click is directly added to premiumize.
And, by the way, their API is public and well integrated in many external tools (Kodi, Gaia, Seren, etc.).
How anonymous is Premiumize?
Registration is mandatory but little information is collected during the signup process (barely an email account).
Any downloads effectuated through the site will hide your IP from the network; among other things, it prevents your ISP from limiting your access to certain sites or resources.
Premiumize makes the effort to store the least information, they do not keep track of your download history but do save data about traffic amounts (for their fair use system). They record as well payment information for some time, as it represents a powerful way to claim and prove ownership over an account if access was lost.
The all-in-one cloud downloading service built the system so that once a user deletes a file the database connection and history is completely erased. This means they cannot restore files from user's cloud if they accidentially delete it or their membership ran out.
What about the Security?
The site has supported HTTPS since its early days, meaning that any data transferred from and to the platform travels encrypted from end to end.
Downloaded files are not scanned for viruses, malware or any other kind of malicious code, so, any responsibility for damages caused to any devices to which the data is transferred fall into the user.
The site strongly opposes to temporary email accounts and tries to guess at registration time if the user is using one. If the system thinks so, the user will be asked to use an alternative address. Captchas are also included in some of the forms within the site to mitigate brute force attacks.
The service also pioneered the use of an "apikey" instead of website logins if external addons or download managers are connected to the user's premiumize membership. With apikey you can use the downloads but NOT change passwords, see billing data, email etc. This protects the user from shady developers.
User Experience on Premiumize
The site loads quite quick, it comes with an intuitive slightly old-fashioned interface that adjust to any screen size without trouble.
User ratings on Trustpilot are mostly positive, with scores from users with at least 1 other review in their history. The average score currently stands at 7.7/10.
Regardless of their usage of a service to hide the identity of the owner, Scam Adviser gives the site a 90% trust rating and Scam Aider a 100% score. The site is deemed to be popular according to Alexa, ranking within the 50,000 most popular sites. According to the same index, the site is particularly popular in Germany, where it has consistently ranked within the first 5,000.
Customer support is available through tickets and live chat. Ticket support is the preferred way and it even doesn't require a login. Since the cloud torrent service is run by a new company the ticket support has dramatically improved and is now much more agile than it used to be in the last couple of years. Important updates get published on their Twitter account.
Pros
Truly anonymous downloads
A broad range of services offered.
1 TB storage is a LOT compared to the competition
Streaming optimizing to make sure every file can be streamed in browser
Giant cache: most torrents finish instantly
Unlimited file lifetime (as long as you pay)
RSS manager for automating importing to premiumize
Contras
A bit pricey, depending on the use case.
No free or trial accounts.
Conclusion
The best use case for Premiumize is taking advantage of their wide offering. Compared to other cloud torrent services their offer is quite advanced regarding the many features the service includes. Considering that buying a subscription is not optional, occasional users are warned to stay away from the site and rather go for the free tier on any of its competitors.
Go to premiumize.me